My Blog
Posts for: April, 2014
By South Shore Children's Dentistry
April 17, 2014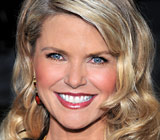 Supermodel Christie Brinkley has a one-in-a-million smile, but she is just one of millions who have benefited from today's preferred tooth-replacement technique: the dental implant. In a wide-ranging interview, Brinkley told Dear Doctor magazine about a helicopter accident she suffered while back-country skiing.
"I fractured two molars in the back of my mouth and I had to get two dental implants," Brinkley told the magazine. "I am grateful for the dental implant technology that feels and looks so natural."
You might think it serves little purpose to replace a missing back tooth that was barely visible in your smile to begin with — especially if you don't spend a lot of time posing for magazine covers. But this is actually not the case. Your molars are extremely important for chewing and even for maintaining a more youthful appearance.
Dentists generally agree that losing posterior (back) teeth can have many consequences for the remaining teeth and their surrounding structures, i.e., bone and gums. If back teeth are missing, the front teeth end up bearing more stress than they were built for. And there are certain things that happen when any tooth is lost, whether front or back, that can affect function and appearance.
For one thing, when a tooth is lost the adjacent teeth tend to drift into the empty space or tip towards it. This can adversely affect your bite. Too much shifting can render a tooth basically useless and also leave it more vulnerable to gum disease.
Another complication is the loss of tooth-supporting bone that inevitably occurs when teeth are lost. When a tooth comes out, the bone under it actually begins to melt away. Since back teeth support the vertical dimension of the face, their loss can cause what's known as "bite collapse" — a reduction in facial height that becomes increasingly noticeable over time and can make you look older.
A dental implant can prevent all of these things, while providing you with a replacement that looks and feels just like the tooth you lost.
If you are interested in learning more about implants, please contact us or schedule an appointment for a consultation. If you would like to read Dear Doctor's entire interview with Christie Brinkley, please see "The Secret Behind Christie Brinkley's Supermodel Smile." Dear Doctor magazine also has more on "Replacing Back Teeth."
By South Shore Children's Dentistry
April 02, 2014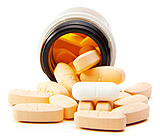 If you've come in to our office lately, chances are you've been asked to fill out a form or answer a question about what medications — both prescription and non-prescription — you are currently using. Of course, if you're taking a blood-pressure drug or a pill to help control your cholesterol, you wouldn't hesitate to put it on the list. But how about those vitamins and herbal supplements you take — do you really have to list those too?
The answer is a definite yes — and some of the reasons why may surprise you. Did you know that many "natural" dietary supplements can have potentially serious interactions with other drugs you may be prescribed? For example, herbal preparations made from the plant called St. John's Wort are often used by people seeking relief from depression or anxiety. However, the active chemical compounds in this herb can interfere with some anesthetic drugs, and may make it harder for you to recover from the effects of anesthesia. Ginkgo biloba and some other commonly used herbs have a similar effect.
Even some vitamins have the potential to cause negative interactions. Large doses of Vitamin E, for example, can increase the risk of internal bleeding in people who are taking blood thinners or non-steroidal anti-inflammatory medications (NSAIDS), such as aspirin and ibuprofen. These medications are commonly prescribed for pain relief after minor dental procedures.
Does that mean you have to stop taking vitamins and herbal supplements if you may need a dental or medical procedure? Not necessarily. Vitamins are indeed vital to your health, and a deficiency in one or more of these important substances can result in serious diseases — like scurvy, which formerly plagued sailors lacking access to fresh fruits and vegetables. If you've been told you have a vitamin deficiency, taking vitamin pills is a must.
But the best way to get the proper amount of vitamins is through a healthy, well-balanced diet rich in fruits, vegetables, and whole grains. Not only does consuming these foods give you the most "natural" source of vitamins — it also provides you with other essential micronutrients and fiber, and it is low in fat and cholesterol.
No nutritional supplement is a substitute for a healthy diet — and that's something we'd like everyone to remember. We'd also like to remind you to tell us about ALL the medications and supplements you're taking, especially if you're going to have a procedure. Giving us complete information will help ensure that you'll remain as healthy and safe as possible.
If you have questions about dietary supplements, nutrition and your teeth, please call our office to arrange a consultation. You can learn more in the Dear Doctor magazine article "Vitamins & Dietary Supplements: What Every Consumer Should Know."