My Blog
Posts for: October, 2014
By South Shore Children's Dentistry
October 20, 2014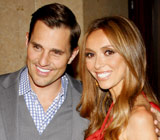 For some kids, having a cavity or two is just part of growing up. Not for Giuliana Rancic. When she was a child, the TV personality didn't have a single cavity — and she still doesn't. But for her husband Bill, co-star of the Style Network reality show Giuliana and Bill, it was a different story. A cavity-prone kid, he was never certain what a visit to the dentist might hold in store. "I can still remember the anticipation," he recently told Dear Doctor magazine. "I always hoped I would get out of the checkups without a cavity!"
Why do some people get more cavities than others? There are a number of factors at work, but to understand it better, let's look at how tooth decay occurs.
How Cavities Form
Cavities — also called dental caries — are small pits or holes in the teeth that are caused by tooth decay. Tooth decay itself is a chronic disease that can flare up when plaque isn't kept under control. A thin, bacteria-laden film, plaque sticks to tooth surfaces both above and below the gum line, and can build up in the absence of effective oral hygiene.
Of course, everyone has bacteria in their mouth, both "good" and "bad" (pathogenic) types. But when the bad guys outnumber the good, trouble can start. When you consume sweets, plaque bacteria process the sugars and release acid as a byproduct. The acid eats into tooth surfaces, causing decay — and cavities that need filling. Left untreated, decay can work its way into the tooth's pulp, resulting in infection and pain. Eventually, treatment might involve a root canal — or, in the worst case, extraction.
What can you do if you seem to be prone to cavities? One effective way to fight tooth decay is by maintaining good oral hygiene. Brush at least twice daily, for at least two minutes each time. Use a soft-bristled brush and a dab of fluoride toothpaste to clean all around your teeth. Most importantly, floss above and below the gum line, every day. And just as important, don't forget to have regular dental checkups every six months.
A Healthy Balance
Another cavity-fighting strategy is eating a balanced diet. Avoid soda, sugary "energy" drinks and sweet treats — but if you choose to consume sugar, have it with meals instead of between meals. This will give your saliva, which has natural cavity-fighting properties, a chance to work.
"It's all about maintaining a healthy balance," Giuliana told Dear Doctor. And Bill agrees: "I love nuts and fruit for a healthy snack," he said, adding that he's meticulous about brushing and flossing. And when the couple smiles, you can see how those healthy habits pay off.
If you would like more information on preventing tooth decay, please contact us or schedule an appointment for a consultation. You can learn more about this topic in the Dear Doctor magazine articles "Tooth Decay" and "Tooth Decay – How To Assess Your Risk."
By South Shore Children's Dentistry
October 14, 2014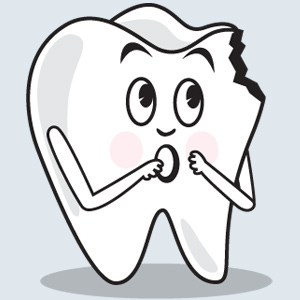 Having a chipped tooth certainly can make life more difficult. It not only keeps you from wanting to smile, but it may also make it harder to eat your favorite foods. And that can be a major problem — especially if you need to eat up to 80 pounds of bamboo every day to stay healthy.
Just ask Bai Yun, the female giant panda at the San Diego Zoo. The 23-year-old animal recently chipped one of her lower canines, and her keepers were concerned that it might impair her ability to get good nutrition (pandas spend as many as 12 hours a day munching on the woody plants). So they decided it was time for a little dental work!
What followed was not unlike a regular visit to the dental office… except that, instead of sitting in a chair, the 227-pound panda reclined on a large table. After being anesthetized, the patient's teeth were examined, and x-rays were taken. A composite resin was applied to the damaged tooth, and it was cured with a special light. After the repair work was done, her teeth were given a professional cleaning. When the anesthesia wore off, Bai Yun was released in good health — and ready to eat more bamboo.
Tooth bonding with composite resin is the restoration of choice in many situations. This method can be used to repair small chips or cracks in the teeth, and to clear up some spacing irregularities. The resin itself is a mixture of tough, translucent plastic and glass components that can be made in a number of different shades, which look remarkably like the tooth's natural enamel coating. And the bonding material links up so well with the tooth structure that this treatment can be expected to last for years.
Another benefit of bonding is that it can be done right in the office — there's no lab work involved (as there could be for veneers or crowns, for example). That makes it a relatively simple and economical treatment that can typically be completed in a single visit. It's ideal for fixing minor flaws that don't involve a great deal of tooth structure. It's also a cost-effective solution for teenagers who need cosmetic dental work, but must wait until they have stopped growing to get more permanent restorations.
While it isn't usually as long-lasting as restorations like crowns and veneers, cosmetic bonding is a minimally invasive, reversible treatment that can keep your smile healthy and bright for years to come. And that's important — whether or not you spend most of your day eating bamboo and posing for snapshots at the zoo.
If you have questions about whether cosmetic bonding could help your smile look its best, please contact us or schedule an appointment for a consultation. You can learn more by reading the Dear Doctor magazine articles "Repairing Chipped Teeth" and "Artistic Repair Of Front Teeth With Composite Resin."