My Blog
Posts for tag: dental implants
By South Shore Children's Dentistry
February 13, 2015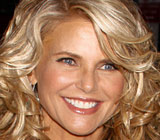 Model Christie Brinkley's smile has been a symbol of America's optimism since the seventies. Particularly well known for being the cover model for three consecutive Sports Illustrated Swimsuit editions, Brinkley still has a fresh-faced American girl-next-door beauty that starts with her cheerful smile, which transmits the message that all is well.
Brinkley's modeling career began when she was "discovered" in Paris in the seventies, at the age of 18. As she explained in an interview with Dear Doctor magazine, it was like a fairy tale. She had gone to study art in Paris, where a fashion designer spotted her walking down the street. "He told me later he immediately thought, 'That's the girl!'" she said.
Brinkley attributes her famous smile to a combination of good genetics (she inherited her mother's "beautiful straight teeth"), combined with the intelligence to practice good oral hygiene and have regular dental appointments. She never needed to have work done to prepare her for the modeling life; but as a teenager, she said, she wished she could wear braces because she thought the "coolest kids had them."
Although dental restorations were not needed to enhance her beautiful natural smile, she did have two dental implants after she fractured two rear molars in a bad helicopter crash while back-country skiing, and she says she is thankful for dental implant technology because it looks and feels so natural.
Brinkley said that her smile led directly to her assignment as spokesperson for a brand of oral rinse and mouthwash products. She is also concerned about the environment. Her company Christie, Inc. is designing environmentally friendly products.
Her advice to everyone is to smile more. "I think a smile makes EVERYONE beautiful! It's the greatest gift we give each other... It's an expression of friendship, love and peace!"
If you have questions about your smile, contact us today to schedule an appointment. Or you can learn more by reading the Dear Doctor magazine article "Christie Brinkley's Supermodel Smile."
By South Shore Children's Dentistry
May 12, 2014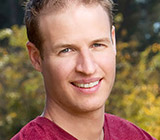 If you follow the hit TV reality show Amazing Race, you know that professional-hockey-playing brothers Bates and Anthony Battaglia won the $1 million prize in the latest globe-spanning competition. You may also have witnessed Anthony removing his false front teeth from time to time — like when he had to dive for pearls in Bora Bora. Since he plans to resume his sports career, Anthony wears a partial denture to fill the gap in his classic "hockey mouth." He has said that when he finally hangs up his skates, he will use some of his Amazing Race prize money to get new, permanent teeth. When it's time to get that new smile, Anthony, like many people, will have to choose between two good options for permanent tooth replacement.
The preferred option for most people is dental implants. In this system, tiny titanium posts substitute for the root part of your missing tooth (or teeth). These are placed beneath your gum line in a minor surgical procedure we perform right here at the dental office. The amazing thing about dental implants is that they actually fuse to your jawbone, allowing your replacement teeth to last a lifetime.
The titanium implant itself is not visible in the mouth; the part of an implant tooth that you see is the lifelike crown. Virtually indistinguishable from your natural teeth, the crown is attached to the implant above the gum line. Dental implants can be used to replace a single tooth, multiple teeth, or even all your teeth. You don't necessarily need one implant for every tooth because implants can support bridgework or even a complete set of prosthetic teeth.
The second-best option is a natural-tooth fixed bridge. In this system, we use healthy natural teeth on either side of the empty space left by a missing tooth (or teeth) as supports for one or more of the prosthetic teeth that will fill the gap. The downside is that in order to turn these healthy teeth into supports (which are referred to in dentistry as "abutments"), we need to remove some enamel and then cap them. This procedure can leave those teeth more prone to decay than they were before. But with regular dental exams and good oral hygiene on your part, bridgework can last many years.
Which system is right for you? That's a question we would be happy to help you determine... even if you haven't won a large jackpot or gone pearl diving in Bora Bora. If you've been looking forward to the day when you can have permanent replacement teeth, why wait? Contact us or schedule an appointment for a consultation. We will help you find your ideal solution to the problem of missing teeth! For more information, please see the Dear Doctor magazine articles "Dental Implants vs. Bridgework" and "Dental Implants: Your Third Set of Teeth."
By South Shore Children's Dentistry
February 21, 2014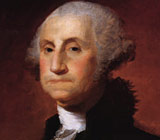 Everyone knows that George Washington wore false teeth. Quick, now, what were our first President's dentures made of?
Did you say wood? Along with the cherry tree, that's one of the most persistent myths about the father of our country. In fact, Washington had several sets of dentures — made of gold, hippopotamus tusk, and animal teeth, among other things — but none of them were made of wood.
Washington's dental troubles were well documented, and likely caused some discomfort through much of his life. He began losing teeth at the age of 22, and had only one natural tooth remaining when he took office. (He lost that one before finishing his first term.) Portraits painted several years apart show scars on his cheeks and a decreasing distance between his nose and chin, indicating persistent dental problems.
Dentistry has come a long way in the two-and-a-half centuries since Washington began losing his teeth. Yet edentulism — the complete loss of all permanent teeth — remains a major public health issue. Did you know that 26% of U.S. adults between 65 and 74 years of age have no natural teeth remaining?
Tooth loss leads to loss of the underlying bone in the jaw, making a person seem older and more severe-looking (just look at those later portraits of Washington). But the problems associated with lost teeth aren't limited to cosmetic flaws. Individuals lacking teeth sometimes have trouble getting adequate nutrition, and may be at increased risk for systemic health disorders.
Fortunately, modern dentistry offers a number of ways that the problem of tooth loss can be overcome. One of the most common is still — you guessed it — removable dentures. Prosthetic teeth that are well-designed and properly fitted offer an attractive and practical replacement when the natural teeth can't be saved. Working together with you, our office can provide a set of dentures that feel, fit, and function normally — and look great too.
There are also some state-of-the art methods that can make wearing dentures an even better experience. For example, to increase stability and comfort, the whole lower denture can be supported with just two dental implants placed in the lower jaw. This is referred to as an implant supported overdenture. This approach eliminates the need for dental adhesives, and many people find it boosts their confidence as well.
If you have questions about dentures, please contact us or schedule an appointment for a consultation. You can learn more in the Dear Doctor magazine articles "Removable Full Dentures" and "Implant Overdentures for the Lower Jaw."