My Blog
Posts for tag: gum disease
By South Shore Children's Dentistry
May 02, 2014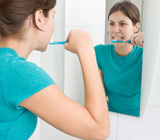 If your gums bleed when you brush your teeth, it's unlikely the cause is brushing too hard. The more common reason (especially if you're experiencing little to no pain) is periodontal (gum) disease caused by the accumulation of bacterial deposits known as dental plaque and calculus where your teeth and gums meet.
This bacterial dental plaque results in an infection in the soft tissues of the gum; the body responds to this infection with antibodies, which in turn cause the gums to become swollen, or inflamed. As this biological "war" rages on, both the infection and inflammation become chronic. The tissues are weakened from this disease process and bleed easily.
Bleeding gums, then, is an important warning sign of possible gum disease. As the infection progresses the normal attachment between the teeth and gums begins to break down and form pockets in the void. The infection will continue within these pockets, eventually spreading deeper into the gums and bone. The gum tissue may begin to recede, resulting in bone loss and, if untreated, to tooth loss.
In the early stages of the disease, bleeding gums could be the only symptom you notice. It's possible the bleeding may eventually stop, but this doesn't mean the disease has, and is more likely advancing. If you've encountered bleeding gums, you should visit us as soon as possible for a complete examination.
There's a two-pronged approach for treating gum disease. The first prong — and top priority — is to remove as much of the offending bacterial plaque and harder deposits (calculus) as possible, along with the possibility of follow-up antibacterial and antibiotic treatment. This may require more than one session, but it's necessary in stopping the disease. The second prong is instituting proper oral hygiene: daily brushing and flossing (using proper techniques we can teach you) and semi-annual professional cleanings in our office to remove any plaque or calculus not removed with brushing.
Bleeding gums is your body's way of telling you something isn't right with your gums. The sooner you seek diagnosis and treatment, the better your chances of halting the damage caused by the disease.
If you would like more information on bleeding gums as a warning sign of gum disease, please contact us or schedule an appointment for a consultation. You can also learn more about this topic by reading the Dear Doctor magazine article "Bleeding Gums."
By South Shore Children's Dentistry
March 03, 2014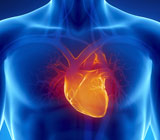 Your body's organ systems are interlinked — what happens in one system may affect another. An example of this is the interrelationship between periodontal (gum) disease and cardiovascular disease (CVD).
Medicine has discovered a common link between these two different conditions — inflammation. A result of the body's defense mechanisms, chronic inflammation is damaging to both your mouth and your heart. Inflammation can destroy the gum's soft tissue and underlying bone and lead to tooth loss. In the cardiovascular system, inflammation can begin and accelerate the buildup of plaque within arterial blood vessels (atherosclerosis). This inhibits the flow of oxygenated blood to both the heart and brain, which sets the stage for a heart attack or stroke.
Gum disease begins with poor oral hygiene. When brushing and flossing aren't performed on a regular basis, or not performed adequately, it allows a thin layer of bacterial plaque called biofilm to build up on the teeth. The bacteria cause infection in the soft tissues of the gum that triggers the chronic inflammation. Because it's often unaccompanied by other signs of infection like fever, a patient may not even be aware of it. There's evidence now that inflammation caused by moderate to severe gum disease can contribute to a similar response in blood vessels.
We can treat the gum disease and reduce or eliminate the inflammation. This first requires the removal of all plaque and calculus (harder deposits) on the teeth, down to the root level. It may require surgery to access these areas and to help regenerate some of the lost tissue and bone that support the teeth. It's also important to institute proper oral hygiene — effective daily brushing and flossing, semi-annual office cleanings and checkups.
In a similar way, you should address signs of inflammation in your cardiovascular system, including blood pressure management and the control of LDL (bad) cholesterol. Because both gum disease and CVD share many of the same risk factors, you can positively impact both your oral and general health by eating more nutritional foods, engaging in regular exercise and quitting tobacco products.
Treating any symptom of inflammation is important to improving your total health. By bringing gum disease and its accompanying inflammation under control, you may in turn help your heart and blood vessels.
If you would like more information on the relationship between heart and gum diseases, please contact us or schedule an appointment for a consultation. You can also learn more about this topic by reading the Dear Doctor magazine article "The Link Between Heart & Gum Diseases."