My Blog
Posts for tag: pediatric dentistry
By South Shore Children's Dentistry
January 29, 2015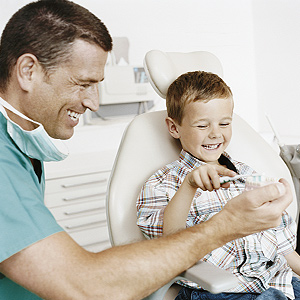 While the prevention and treatment of tooth decay has improved dramatically over the last half century, it continues to be a major health issue, especially for children. One in four children 5 and younger will develop some form of the disease.
Although tooth decay in children stems from the same causes as in adults — the presence of decay-causing bacteria in plaque, unprotected teeth and the right mix of carbohydrates like sugar left in the mouth — the means by which it occurs may be different. We even define tooth decay differently in children as Early Childhood Caries (ECC), "caries" the dental profession's term for tooth decay.
ECC highlights a number of cause factors specific to young children, such as: continuous use of a bottle or "sippy cup" filled with juice or other sweetened beverages; at-will breast-feeding throughout the night; use of a sweetened pacifier; or regular use of sugar-based oral medicine to treat chronic illness.
If you noticed sugar as a common denominator in these factors, you're right. As a primary food source for bacteria, refined sugar is a major trigger for the disease especially if it constantly resides in the mouth from constant snacking or sipping. In fact, it's the primary driver for a particular pattern of decay known as Baby Bottle Tooth Decay (BBTD). This pattern is specifically linked to sleep-time bottles filled with juice, milk, formula or other sweetened beverages, given to an infant or toddler to help soothe them through the night or during naps.
All these factors cause a cycle of decay. To interrupt that cycle, there are some things you as a parent should do: perform daily hygiene with your child to reduce decay-causing bacteria; reduce the amount and frequency of carbohydrates in the diet, particularly sugar; and protect the teeth by having us apply fluoride or sealants directly to the teeth.
Early tooth decay could affect your child's oral health for years to come. With a little care and vigilance, you improve your chances of avoiding that encounter.
If you would like more information on preventing tooth decay in children, please contact us or schedule an appointment for a consultation. You can also learn more about this topic by reading the Dear Doctor magazine article "Dentistry & Oral Health for Children."
By South Shore Children's Dentistry
November 04, 2014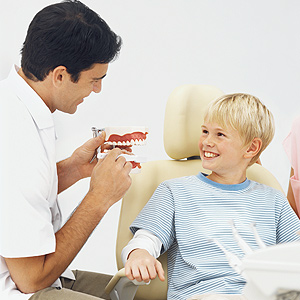 As a parent, the task of guiding your children through their physical, mental and social development can sometimes seem overwhelming. That doesn't have to be the case with their dental development — that's because we're one of your most reliable support partners for oral health. We're available not only to treat problems as they arise, but to also offer expertise and resources that can help you help your children establish life-long oral health.
Here are just a few ways we can help guide you along the path to a brighter dental future for your children:
Age One Dental Visit. A healthy life is built on healthy habits — and there's no better habit for great dental health than regular checkups. We recommend your child's first visit with us around their first birthday. Beginning this early not only helps us identify any emerging dental problems, it can also help the child — and you — become more comfortable with visiting the dentist. As they grow older they'll think nothing of their regular visits in the dentist's chair.
Help! While your child's first teeth coming in are exciting milestones, the teething process can be extremely frustrating. And, when those same primary teeth give way to their permanent versions, you'll develop a new set of concerns about their development. By establishing a long-term trust relationship with us, we can offer a wealth of knowledge and tips (as well as needed reassurance) concerning the various stages of your child's dental development.
"Do as I Do." Dental visits are important — but the greatest contribution to long-term dental care is a daily habit of proper brushing and flossing, which should start as soon as your child's first teeth begin to appear. "Modeling" is the best approach for instilling this habit in your child — performing hygiene tasks together and allowing them to learn how to do it from you. To be sure you're passing on the proper technique, we'll be glad to provide you with instruction on brushing and flossing — for your sake as well as theirs.
Although rewarding, raising a child is a tough job. When it comes to their oral health, though, we can help make that job a little easier.
If you would like more information on building the right foundation for your child's dental health, please contact us or schedule an appointment for a consultation. You can also learn more about this topic by reading the Dear Doctor magazine article "Dentistry & Oral Health for Children."
By South Shore Children's Dentistry
May 27, 2014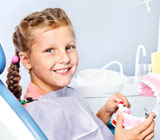 Next to brushing and flossing, a regular dental checkup is the single most important thing you can do for a healthy mouth. It's also one of the best lifetime habits you can instill in your child, a task that's a lot easier if your child sees visiting the dentist as a normal, even enjoyable part of life. Here are some things you can do to help make that happen.
First, if you're not in the habit of taking your child for regular dental checkups, the sooner you start the better. We recommend you schedule your child's first checkup around their first birthday. This will help your child become better accustomed to visiting the dentist, and get both of you on the right track with proper hygiene techniques. And by identifying and treating dental problems early, you may be able to avoid more stress-prone treatments in the future.
Who you see is just as important as making the visit. It's important to find a practice that strives to create a comfortable, home-like atmosphere for their patients, especially children. Pediatric dentists (and many general dentists) are trained in child behavior and understand the importance of relating to a child first (pleasant chatting and upbeat explanations of what they're going to do) to put them at ease before beginning examination or treatment.
Perhaps the most important factor in getting your child accustomed to dental care is you — your attitude toward not only visiting the dentist, but caring for your own teeth. Children tend to follow the lead of their parents: if you have developed healthy habits regarding oral hygiene and a nutritious, "tooth-friendly" diet, your children are more likely to follow suit. As for dental visits, if you're calm and pleasant in the dentist's office, your child will then see there's nothing for them to be nervous about.
Going to the dentist at any age shouldn't be an ordeal. Following these steps will go a long way in making dental visits something your child looks forward to.
If you would like more information on dental treatment for children, please contact us or schedule an appointment for a consultation. You can also learn more about this topic by reading the Dear Doctor magazine article "Taking the Stress Out of Dentistry for Kids."